01/08/16 - Adopted and Memorial
It is with great sadness that we have to advise that Rosie passed today.
It's so sad when they reach the point that all that we try doesn't help. Her foster parents gave Rosie a great home and love, and she gave them her all and left paw prints on their hearts.

There is no greater joy, and no greater sacrifice than to love those that someday you must say good bye to. We could not rescue as many as we do, especially the seniors, like Bee, Musky and Rosie, without foster homes like hers.

Rosie was very lucky to have her family.

Adopt A Boxer Rescue wishes to thank Rosie's foster family, and all the foster homes and adoptive homes that give a senior boxer the best last years of their lives.
7/19/15
Rosie went to stay at a volunteer's house while her foster home was on vacation. She was the perfect houseguest. Rosie did not get on the furniture and was very well behaved. She slept nicely on the bed, sometimes putting herself to bed after listening to story time with the kids for awhile. The children gave her a lot of love, tons of hugs, hats for her head, and blankets - Rosie was very patient with them and enjoyed being around the boys. Rosie performed the best wiggle dance with lots of snorts when her temporary foster dad got home from work. She had wonderful leash manners when out on walks.
Rosie's foster home indicates that she has been doing well. Rosie is very anxious when left alone, so does need a home that can be there often with Rosie. She is very sweet and loves people. Rosie does need to be the only dog in the home. Her seizures have been under control with medication.
2/25/15
Rosie is still looking for her forever home. She started her heartworm treatment and will complete the final treatments in March. She is adjusting well in her foster home and is getting along with the resident cat.
1/24/15 -
Rosie was found as a stray and brought to a rural shelter in Alabama. She is a very sweet girl and reported to be good with other dogs. Rosie is heartworm positive and will be treated once she arrives in New York. She will need a foster home. If you are interested in giving this sweet girl a warm bed to rest on, please apply to foster or adopt Rosie.

(click pictures to enlarge)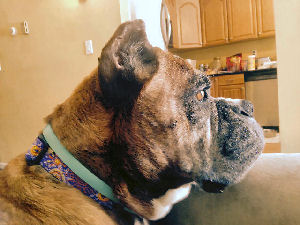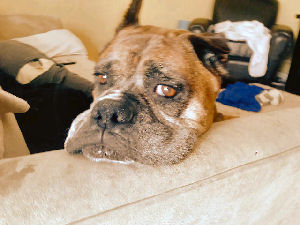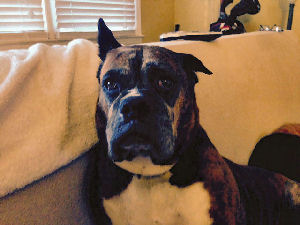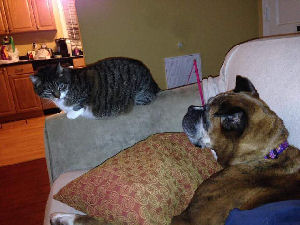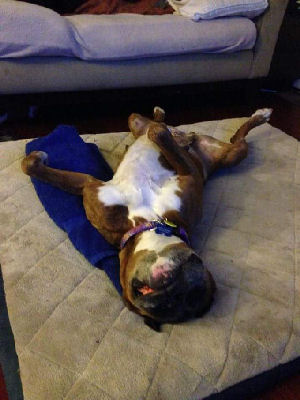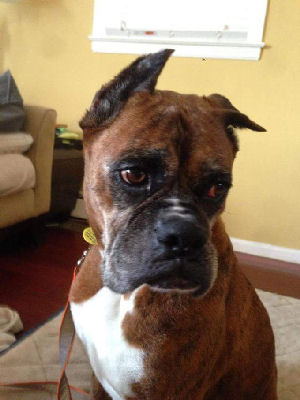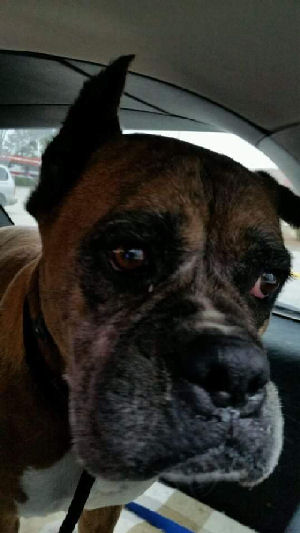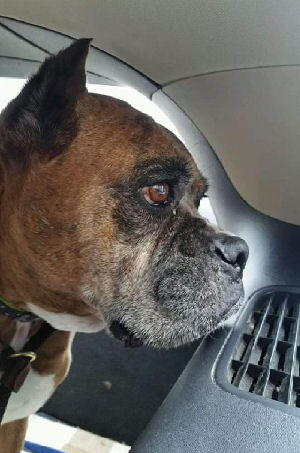 Buy a Dog Name:

This name is in memory of the female from our very first pair of boxers that Ryan and I rescued as a couple in 2010. They had been dumped as seniors at the Philadelphia shelter. We thought about it for 2 hours before we started the drive to PA to pick them up. Sadly, Rosie passed away in April 2011 from cancer.
-Trish Ward
If you are interested in adopting this dog, please first read our Adoption Procedure, by clicking on the link at the top of this page, then fill out an online application.
Boxers and Applicants are not matched on a first come, first served basis. Not all applications are approved. On average, it takes between a week and 3 months to adopt a Rescue Boxer to an approved applicant, depending on your personal circumstances and flexibility.
Not every home is the right match for a boxer, and matching Boxers suitable for placement with younger children, other dogs, cats, and special needs, yours and theirs, increases the application review time and adoption time.
And yes, we realize that the Boxer you may have your heart set on, may be adopted before you're approved. Should your first choices all ready found their forever home, we want you to advise us at your home visit of other dogs you are interested... Or let us suggest a few that we feel will match your home. That is what we are good at. And be happy for the ones that have been placed... and know that there are way too many fantastic dogs waiting in their place.
Our non-profit organization is wholly comprised of hard-working volunteers whose only reward is seeing our wonderful Boxers placed in loving, permanent homes and given another chance for a happy life. Our process may seem slow, but if you are patient, we will try to provide you with a devoted, loving companion - a Boxer.
We hope you feel that the right Boxer is worth waiting for.
Adoptions Fee: Please see our adoption info by clicking on the link at the top of this page.