11/09/16
Robbie had his surgery yesterday to repair the old break in his leg. The orthopedic surgeon had to correct the 30 degree angle of his front leg. Robbie has five pins and an external fixator, which will be in place for 6-12 weeks. Robbie is in good spirits and has been very patient for his bandage wraps. Please consider making a donation toward Robbie's care!
10/05/16
Robbie is moving to a new foster home this weekend, so he can be placed in a home where somebody is there during the day in anticipation of his recovery from surgery. Robbie has received Xrays and we were able to consult with his orthopedic surgeon. We were given the great news that his leg can be repaired. Robbie will have a corrective osteotomy to realign his limb. There will be an external fixator placed on his leg to allow for adjustments. His recovery time can be as long as 8-12 weeks. Robbie is scheduled for a pre-op appointment on October 14th, with surgery taking place on the 17th. We will provide updates on Robbie's progress as he gets settled into his new foster home and will also post a fundraising link once we have a better idea of the cost for his surgery.
8/31/16 -
After receiving complaints of animal cruelty, the Mason County Sheriff's Dept and Animal Control opened an investigation into Robbie's care. Sadly, after visiting his home and speaking with a veterinarian, they discovered Robbie had a fractured leg that had gone untreated. This painful neglect resulted in abnormal bone growth and a leg deformity.
Luckily, due to the decision of the local authorities, Robbie was able to leave his old home in hopes of a brighter future. Last week, Robbie made his way to the Mason County Animal Shelter thanks to Animal Control Officer Gary Trout. The shelter staff, including Shelter Director Betty Neville, provided excellent care for Robbie over the last week.
Today was his big day, though! Robbie is on his way to a better life thanks to a team of wonderful, dedicated individuals. Boone Animal Rescue Coalition president Eva Kordusky and her volunteer, Janet, graciously assisted with pick up and leg one of Robbie's transport. He then stayed at the HSUS WV State Director's home until he could make the final leg of his journey to AABR in Maryland. Robbie will be receiving specialized orthopedic care soon.
Please consider making a donation toward Robbie's care.

(click pictures to enlarge)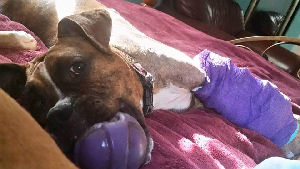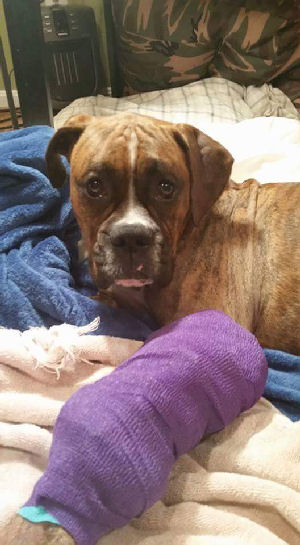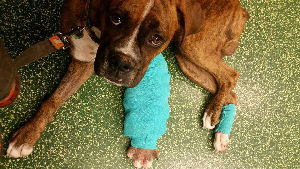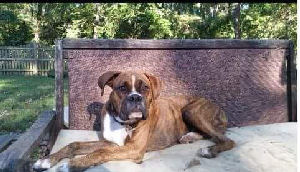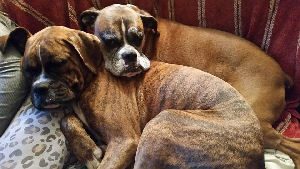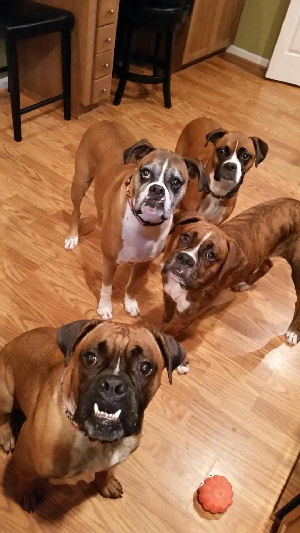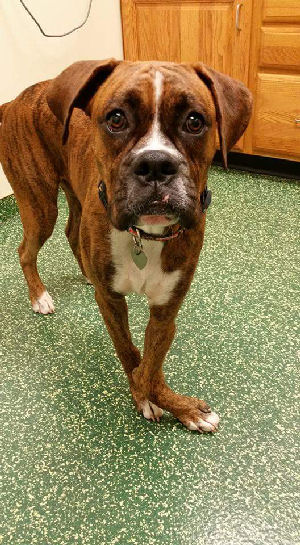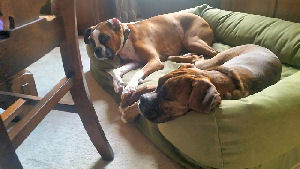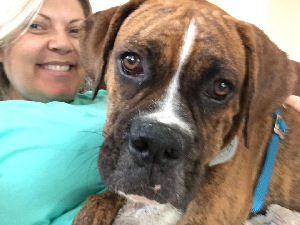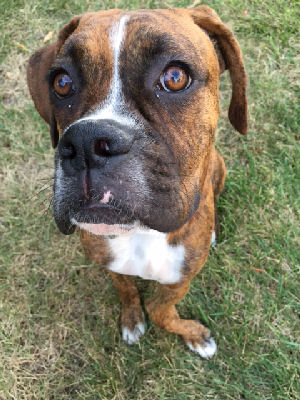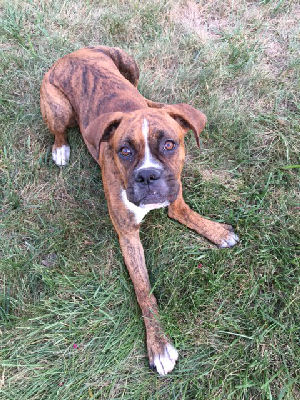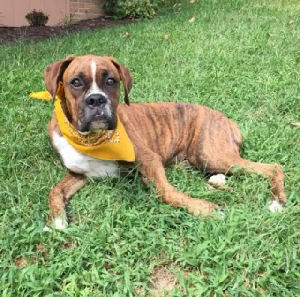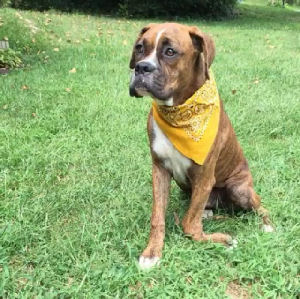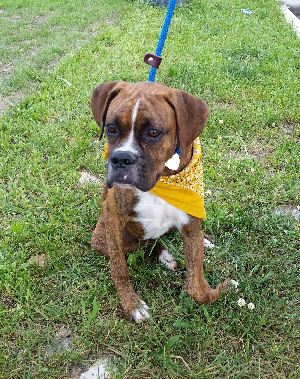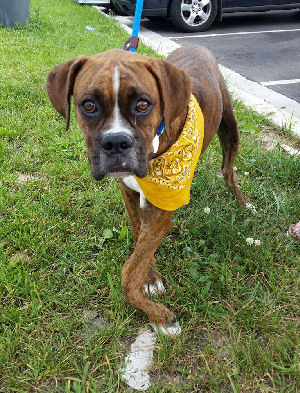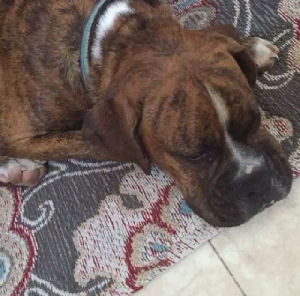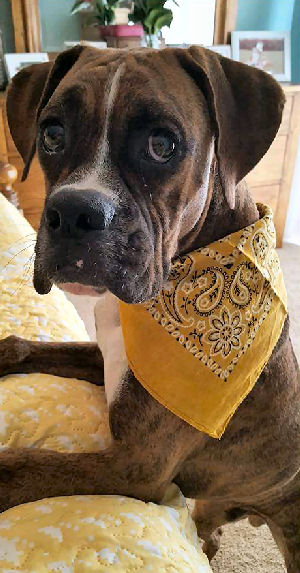 Message for Give a Dog A Name:

Thank you, Tammy Bell, for giving Robbie his new name.
If you are interested in adopting this dog, please first read our Adoption Procedure, by clicking on the link at the top of this page, then fill out an online application.
Boxers and Applicants are not matched on a first come, first served basis. Not all applications are approved. On average, it takes between a week and 3 months to adopt a Rescue Boxer to an approved applicant, depending on your personal circumstances and flexibility.
Not every home is the right match for a boxer, and matching Boxers suitable for placement with younger children, other dogs, cats, and special needs, yours and theirs, increases the application review time and adoption time.
And yes, we realize that the Boxer you may have your heart set on, may be adopted before you're approved. Should your first choices all ready found their forever home, we want you to advise us at your home visit of other dogs you are interested... Or let us suggest a few that we feel will match your home. That is what we are good at. And be happy for the ones that have been placed... and know that there are way too many fantastic dogs waiting in their place.
Our non-profit organization is wholly comprised of hard-working volunteers whose only reward is seeing our wonderful Boxers placed in loving, permanent homes and given another chance for a happy life. Our process may seem slow, but if you are patient, we will try to provide you with a devoted, loving companion - a Boxer.
We hope you feel that the right Boxer is worth waiting for.
Adoptions Fee: Please see our adoption info by clicking on the link at the top of this page.